The permafrost scientist, Kenji Yoshikawa, has walked, sailed and snowmobiled to places where few people have been. Now he is raising reindeer in Alaska, hoping they will take him across the Arctic.
Text: Kajsa Skarsgård       Photos: Christina Sjögren
Having had his morning coffee, Kenji Yoshikawa, a man with broad shoulders and a broad smile, puts his skis on and goes out to look for traces of wolf and lynx in the surrounding spruce forest. Running along with him is Shiro, a watch dog that looks more like a cuddly polar bear.
Shiro has only warned Yoshikawa of predators a few times, and most traces in the forest are from moose, but living in the Alaskan wilderness outside of Fairbanks, his reindeer are always at risk. They are fenced in on the slope beneath Yoshikawa's cabin, a single room with a loft and no connection to the power or water lines.
For three years he has been raising reindeer here, patiently trying to teach them to pull him in a sled.
"Dog-teams are great for pulling sleds because dogs want to please people. If the owner wants the dog to stop, it stops. But the reindeer don't care about the owner. They don't know their own name, and they don't know left and right," explains Yoshikawa.
The idea to use reindeer for transport came to him 23 years ago while he overwintered in his boat outside Barrow, the most northern point of Alaska, having stranded in the ice when sailing from Tomakomai.
How fast can reindeers pull? How heavy and how far?
These questions still linger in his head, but Yoshikawa has already come as close as possible to answering others. For example, what would it be like to walk on Mars?
Since the 13 year old, Tokyo-living, Yoshikawa saw the first spacecraft land on Mars in 1976, he has been trying to find out. After realising that travelling to Mars wasn't possible in the near future, his compromise was to find a place on our planet that could best create a sense of Mars.
That is why he pushed a cart with water across the Sahara desert.
"There were no plants, no animals, no bugs there. It seemed a totally different planet and when, at sunset, I looked back at the horizon, I could see my footsteps all the way to the sun," Yoshikawa remembers. "It was so beautiful, but at the same time I felt a new question growing in me. Was this really the most beautiful place on Earth?"
Understanding life was too short to explore the whole planet properly, he decided he would let different climate extremes portray the beauty of Earth.
So after tramping the hot and dry desert, Yoshikawa tried to paddle up the Amazonas River to experience the rainforest landscape, before skiing in Antarctica.
He was now 23 years old and tired of travelling.
"When I travelled I had to save money. If I saw somebody without money I couldn't give them any, and I didn't like that feeling. Everyone had been so nice to me and I felt so sorry I couldn't do anything for them," says Yoshikawa. "I didn't even know their names or addresses."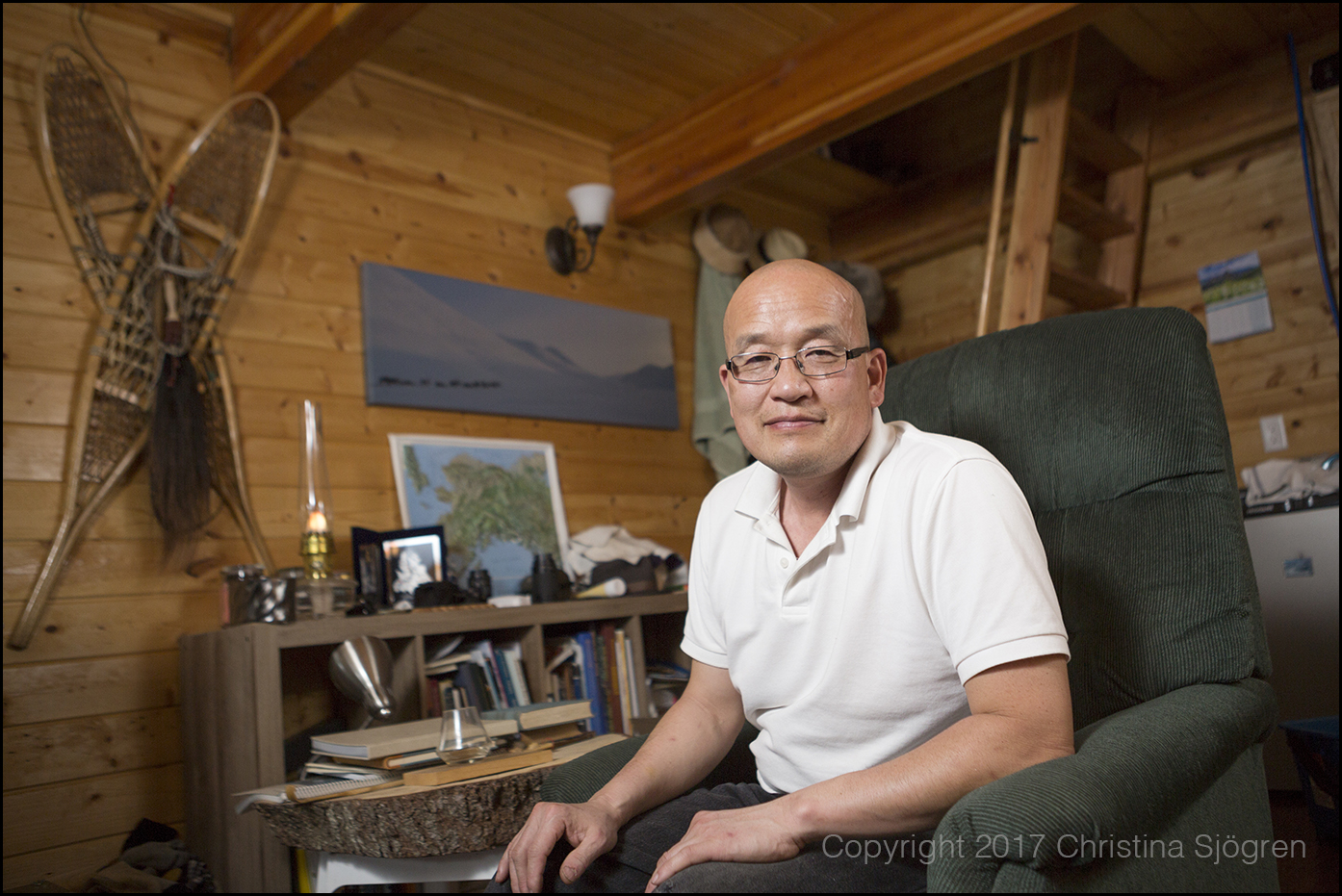 Yoshikawa set three new goals for his life. He was going become a scientist, learn English well and do something for other people.
Still dreaming of Mars, his career choice was clear. Yoshikawa became a permafrost scientist because Mars is frozen and his knowledge could be useful there.
He was right.
Between 2001 and 2005, instruments he had taken part in developing were on Mars collecting data. He had reached as currently close as possible to the dream of going to Mars.
And, having lived in Alaska with his American wife since the sailing adventure to Barrow, he could also tick off the English goal.
But his goal of doing something for others was left.
A broad-shouldered man in a body suit with a big, red T on his chest comes racing on a snowmobile so fast his black cape flows in the wind, accompanied by a voice singing the superhero's name: "Tunnel Man"!
In the next scene of the quirky education-outreach video, two kids go into a mining tunnel where they meet Tunnel Man. He gestures and shows pictures as a woman sings the story of permafrost, to the tune of a re-written Alicia Keys' song.
"I don't know if Alicia Keys is upset that I used her song, but my dream is that she agrees to sing my song instead," says Yoshikawa and shows a picture of himself with a group of kids recognising him as Tunnel Man in a supermarket a couple days before.
Since he found a passion for education outreach, Yoshikawa's colleagues at the University of Alaska Fairbanks, don't see much of him. He has gone to every village in Alaska to teach the children about permafrost.
The children are excited when he arrives out of nowhere on his snow machine. He drills holes in the ground to show them the permafrost and leaves instruments there so they can keep track of the ground temperature and its thaw.
When he had been all over Alaska, Yoshikawa wondered why he should stop there when Canada also has communities living in a permafrost environment. So he travelled by snow machine along the northern coast of North America, from Prudhoe Bay in Alaska to Canada's Baffin Island.
The average distance between the villages was 300 kilometers, or two-three days on the snow machine.
"I rushed to go to the next place while my travel partner wanted to enjoy the trip more. The problem is that my focus is always on reaching the goal. Travelling with me can be a painful experience, but looking back, ten years later, everybody involved feels that the trips have been significant, says Yoshikawa, narrating his life by the kitchen table in his cabin.
A pile of hats and gloves are drying by the fireplace. Sometimes he can see Denali from here. It's the highest mountain in North America, and one of several mountains around the world where Yoshikawa has placed his instruments.
His book "Permafrost in our Time" lies on the table in front of him. Every one of the 200 villages he has visited in Alaska, even the ones with a student population of less than 20, has a page in the book, giving the world an opportunity to see and read what Yoshikawa and the students found when they drilled holes in the ground there to measure the temperature.
Yoshikawa is currently working on the Russian edition of the book.
Because, of course, he didn't end his education-outreach mission after crossing the North American continent on a snow machine. There is permafrost in Siberia, so why wouldn't he also teach the village children there about it?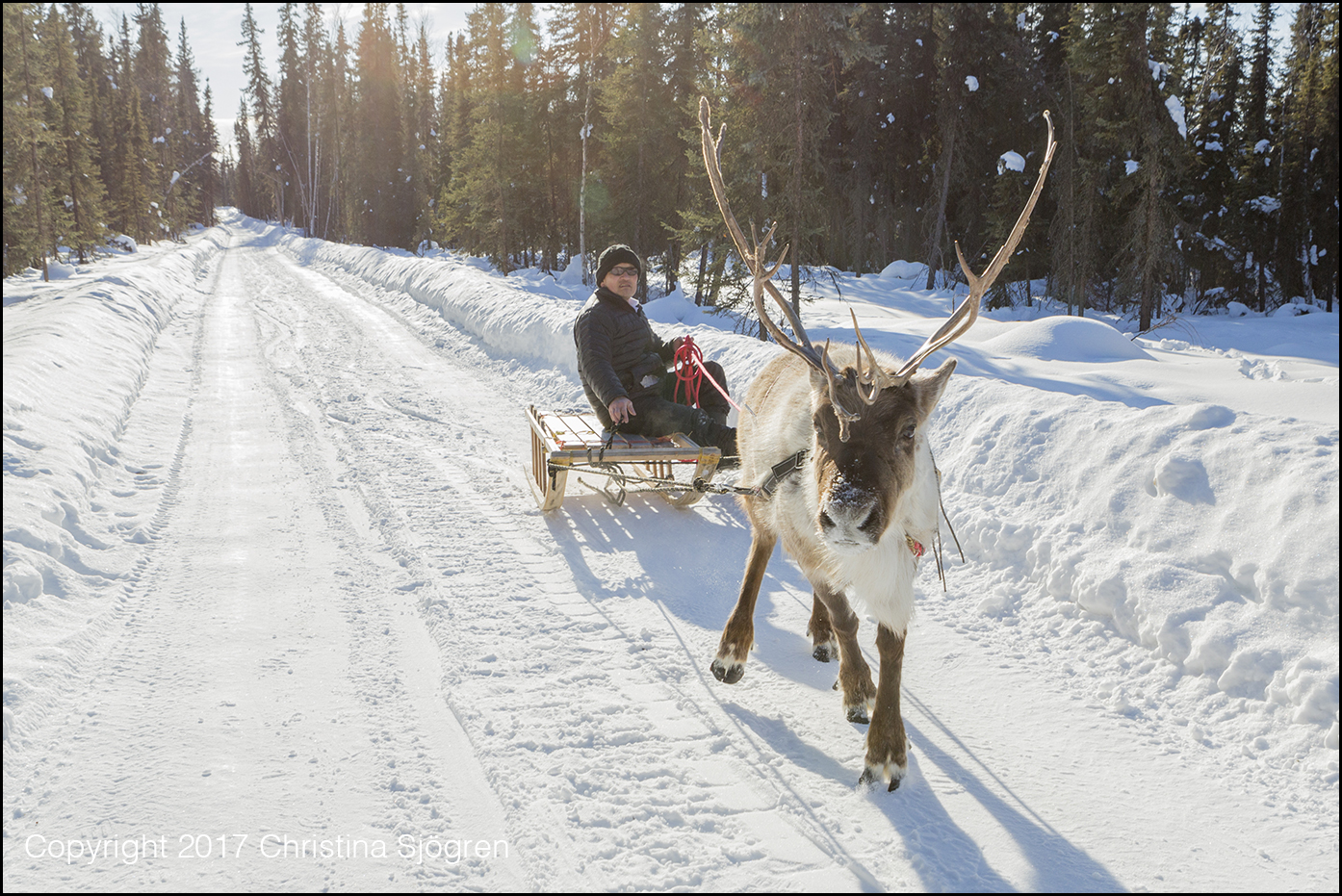 Through the contacts he made in communities across Siberia, Yoshikawa met traditional reindeer-herders. Now aged 50, the time was finally right to pursue his own reindeer dream.
He travelled with the herders of the Evenk people on the Siberian tundra, with the temperature dropping to -50 ºC, and learned how to drive a sled pulled by reindeer.
Today he has eleven reindeer of his own, four of which he has been training for the past two years.
"It's maybe the most ancient way to travel in the Arctic, but not even the people who still do it today do it long distance", he says. "I want to use the reindeer for fast, long-distance travelling,"
Yoshikawa puts on his boots and a down jacket patched with Duck tape and walks down in the glistening snow to the pen, passing the igloo he and his Russian assistant built for fun earlier in the winter.
The reindeer flock around Yoshikawa, hoping to find food. But when he tries to harness one of them, it takes two people to hold it still. The whole walk down to the trail where the sled and the bucket of treats await is a struggle.
A reindeer is definitely not a pleasing dog on a leash.
Yoshikawa manages to attach the sled, and off he goes, with speed but seemingly not much control. He sees progress, though.
"Last year this would have been impossible," explains Yoshikawa.
After the short ride he leads the reindeer back in the pen, careful to avoid any stress as it might reverse all its training and taming.
"I believe snow machines are the best mode of transport in the Arctic, but I want to test all the ways to travel. Reindeer are what I have left. I just have to do this."
Published in The Japan Times, July 26, 2017.
More photos of Kenji Yoshikawa on Christina Sjögren's website.